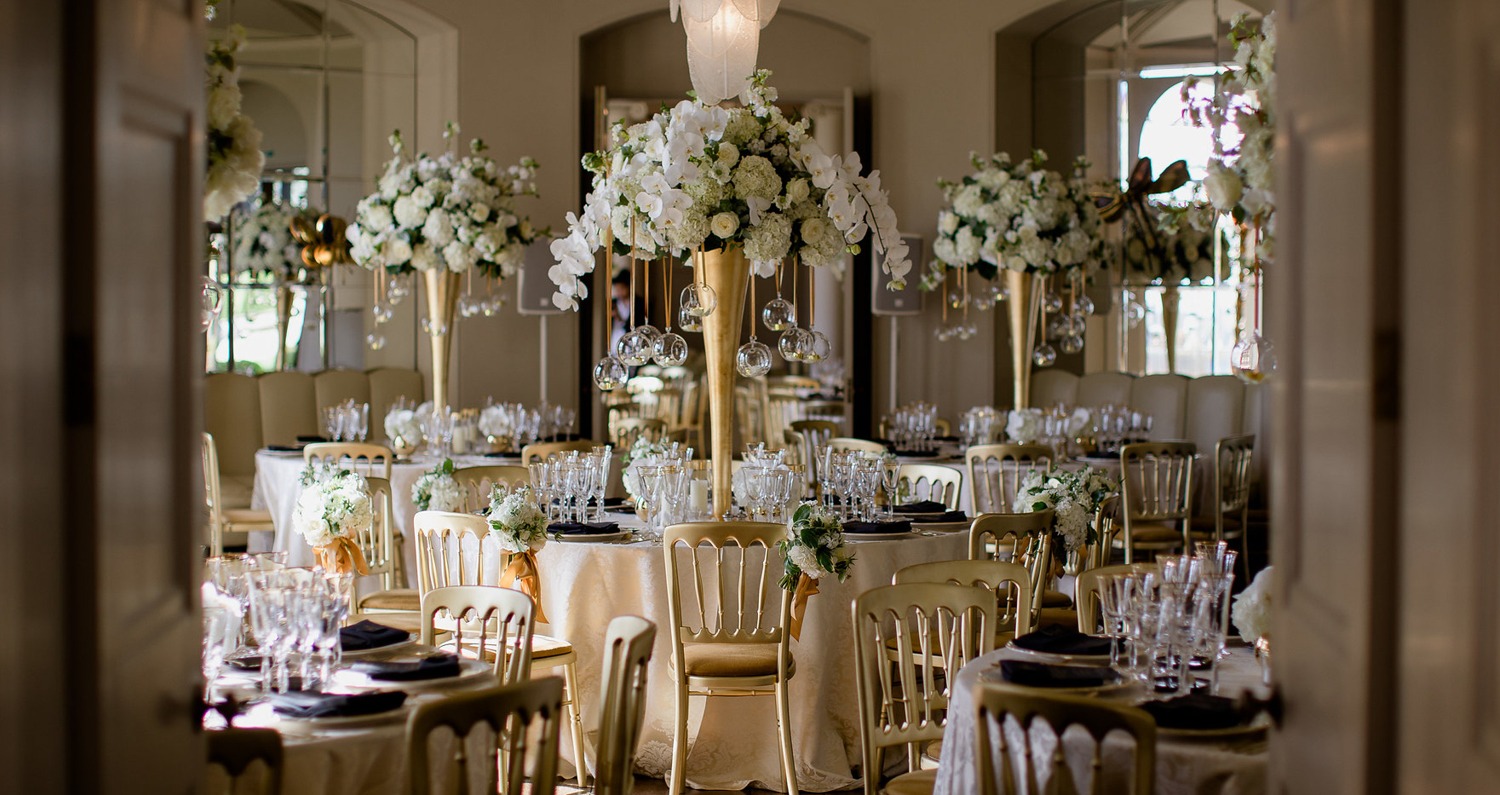 Wedding Flowers – Aynhoe Park
Aynhoe Park is a wonderfully eccentric country house venue, featuring magnificent architectural features with an interior exhibiting many exotic creatures. Our Bride wanted to create a fantasy of orchids, blossom, and candles, featuring the new trend for gold, and to include white.
The attention to detail for these wedding flowers was meticulous. The arrival at Aynhoe Park house entrance was flanked by two fabulous fantasy blossom trees.
Flowers and candles dressed the entrance and staircases. White Phalaenopsis orchids, roses, hydrangeas, and gold lanterns featured throughout.
We wrapped to tops of glass cylinders with mirrored gold metallic tape to create striking gold rimmed candle holders. These were placed either side of the white aisle carpet. On mass, this created a wonderful vista to the end of the aisle, which featured two magnificent hand made blossom trees. We created the perfect framing and wow factor for where the ceremony, the most important part of the day, was to take place.
The dining rooms were set with tables dressed with elegant gold vases with hanging baubles featuring gold night lights, cascading from domes of white hydrangeas, roses, and beautiful orchids. Gold mirror bowls with simple touches of flowers created even more interest on the tables.
The orchids and roses featured in the bridal flowers, with the Brides Bouquet featuring all white Phalaenopsis orchids, to compliment her incredible feather wedding dress.
In all, the wedding flowers created focal points and photo opportunities throughout the venue, and set the scene beautifully in the various locations which were enjoyed throughout this special day.