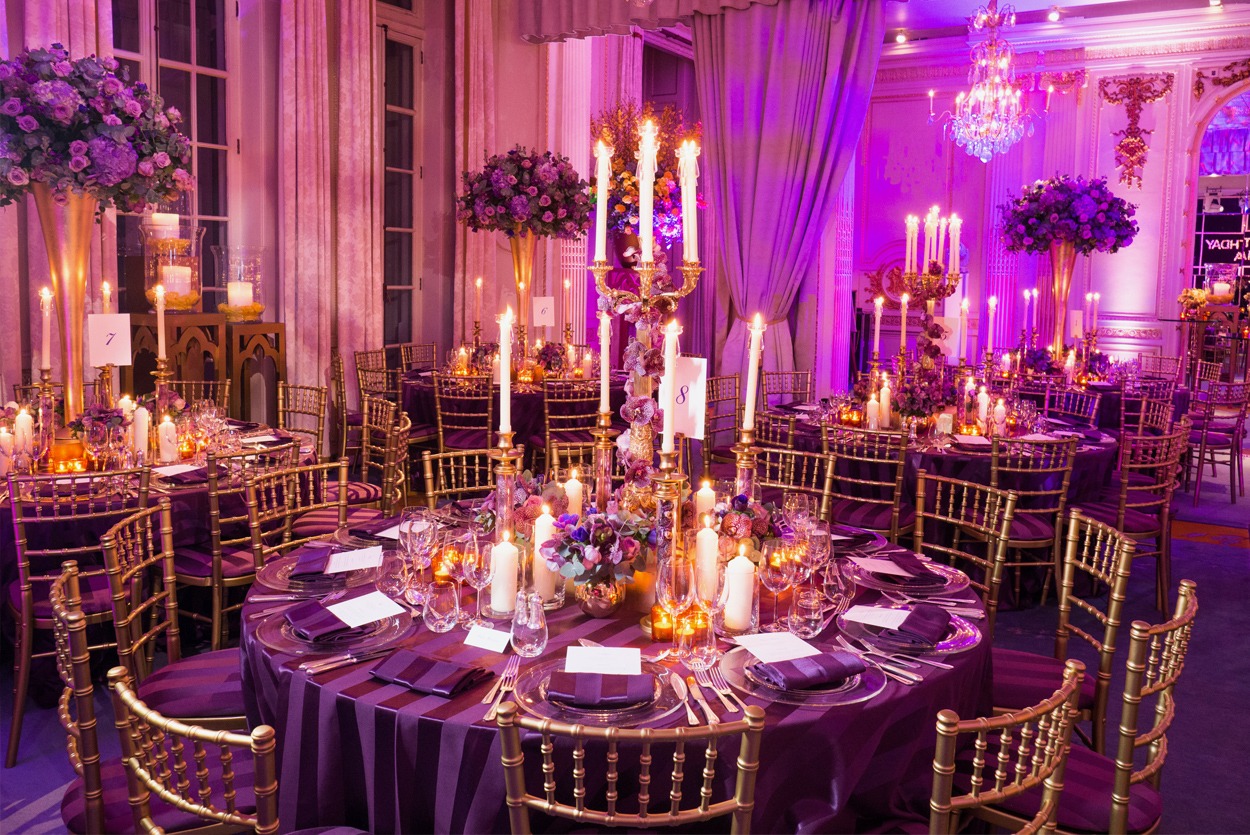 Birthday Party – Mandarin Oriental
This surprise birthday party for a lady was given as a gift by her husband and children, and the only brief was that she liked the colour purple. It was a dinner with entertainment for about 150 people, in the Ballroom of Mandarin Oriental Hyde Park. This five star central London hotel is ideally located next to Hyde Park with views directly from the Ballroom into the park and the Ballroom features exquisite gilded plasterwork.
At the time of this party, gold was fast becoming the new silver – previously all props trending on the London flower scene were silver – chrome, aluminium, or nickel, it was featuring everywhere. This was our ground breaking first endeavour into gold, which was soon to become the new trend, and happened to compliment the Ballroom perfectly.
We had two designs of table decoration – tall vases with elegant elliptical domes of flowers, and on the other tables, stunning gold candelabra.
The tall fluted glass vases were gold leafed by hand by our talented in house artist, and they looked magnificent. Gold leaf is by far superior to spraying props in gold, as the real metal leaf has a glowing radiance about it and looks so much richer. The gold detailing of the Mandarin Ballroom complimented the gold elements perfectly. We placed ornate gold candelabra on the other tables.
The flowers were themed purple and gold– precious vanda orchids made into garlands swirled around the gold candelabra, and vases featuring masses of flowering forsythia.
The combination of purple and gold (which are also the NB corporate colours (!)) are a great favourite of ours and has a wonderful richness. Set with the candle light, and pin spot lighting, the room shimmered with a wealth of candle light, gold, and purple.